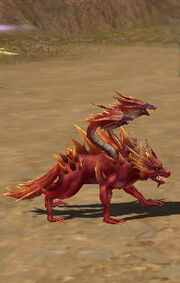 Description
Watchman of the devil territory. Their bodies are all red and has two more heads on their back.
Level
29
Health
4259
Mana
4259
Special
Magic Attack
Type
Demon
Location
Dragonwing Canyon Left
Quests
Drops
Ad blocker interference detected!
Wikia is a free-to-use site that makes money from advertising. We have a modified experience for viewers using ad blockers

Wikia is not accessible if you've made further modifications. Remove the custom ad blocker rule(s) and the page will load as expected.