Ad blocker interference detected!
Wikia is a free-to-use site that makes money from advertising. We have a modified experience for viewers using ad blockers

Wikia is not accessible if you've made further modifications. Remove the custom ad blocker rule(s) and the page will load as expected.
Dealing BasicsEdit
Required Skillbook: Dealing, QUEST ONLY!!!!
Other Tools: None.
The skill is indeed a bargaining skill, as the name says. As you buy or sell something from/to a NPC you will automatically be asked, if you wish to bargain.
Here's an example, where I purchased a Healing Poition (small) for 30 gold.

Notice, that you can get a discount, but may also have to pay extra.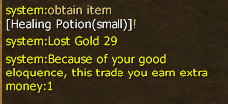 |

Furthermore, you don't get a skillpoint for every trade, but for every successful trade.
How to obtain the Skill book
Edit
To obtain the Dealing skill please take a look at these other wikia links
Leveling Table
Edit
| Skill Level | Discount % | Success Rate | Level Requiment to obtain | Proficiency Requirement to gain next level |
| --- | --- | --- | --- | --- |
| 1 | 2 - 5 | 52% | 10 | 80 |
| 2 | 2 - 5 | 54% | 10 | 210 |
| 3 | 2 - 5 | 56% | 14 | 620 |
| 4 | 5 - 10 | 58% | 18 | 1080 |
| 5 | 5 - 10 | 60% | 22 | 1610 |
| 6 | 5 - 10 | 62% | 26 | 2720 |
| 7 | 7 - 15 | 64% | 30 | 4880 |
| 8 | 7 - 15 | 66% | 34 | 6910 |
| 9 | | | 38 | |
| 10 | | | | |