[Plot] Divine Essence
Edit
Description
Edit
Description2
Edit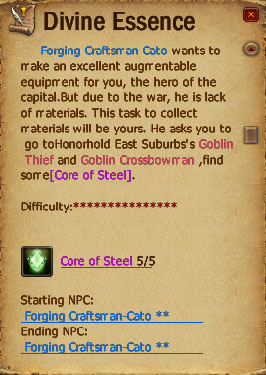 Forging Craftsman-Cato wants to make an excellent augmentable equipment for you, the hero of the capitol. But due to the war, he is lack of materials. This task to collect materials will be yours. He asks you to go to Honorhold East Suburb's Goblin Thief and Goblin Crossbowman, find some Core of Steel.
Description
Edit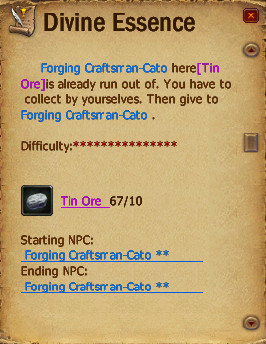 Forging Craftsman-Cato here Tin Ore is already run out of. You have to collect by yourselves. Then give to Forging Craftsman-Cato.
Description
Edit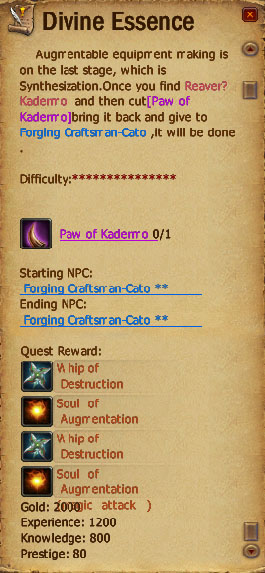 Augmentable equipment making is on the last stage, which is Synthesization. Once you find Reaver Kadermo and then cut Paw of Kadermo bring it back and give to Forging Craftsman-Cato, it will be done.
Well, everything has been done!
You can choose a pair of a lv20 weapon and a Soul: One pair enhances your magic damage, the other your physical damage.
Gold: 2000
Experiance: 1200
Knowledge: 800
Prestige: 80
Questline
Edit
Ad blocker interference detected!
Wikia is a free-to-use site that makes money from advertising. We have a modified experience for viewers using ad blockers

Wikia is not accessible if you've made further modifications. Remove the custom ad blocker rule(s) and the page will load as expected.