Description
Edit
Normal Mode
Level requirement: Lv33 or above
Training Points:
Event Points Cost:
Legendary Mode
Level requirement:
Training Points: Depends on level
Event Points Cost:
Introduction
Edit
William the Wolf King is the right hand of Ghost Fighter Soleth and the lord of the evil Werewolf clan. To prove his power, William took his army to the plains and attacked the united armies! The once tranquil place has been thrown into chaos ever since...
How to Play
Edit
After entering the instance, you will see Injured Old Man. Talk to the old man to let a pop-up message appear. According to its information, kill 30 Werewolf. After killing 30 Werewolves, Werewolf Priest Leader will show up. Get Life Herb from it and rescue the wounded man.
The Wolf King planned to attack the capital, so he prepared some heavy weapons, which include 2 Siege Crossbow. Find Firepan and get Bloody Fire from it. Destroy the siege ballistas using the Fire of the Colored Blood.
Finally, you can challenge the Wolf King himself. As the Wolf King gets beat, he will grow several times in size.
Note: You DO NOT have to do either of the above things to make the Boss appear, you only need them for your Achievements. Feel free to skip them for a faster time!
This Dungeon is Bugged for the Holy Kingdom!
As read in the Introduction, you will have to kill at least 30 Werewolf. You need to kill Werewolf Priest Leader to get Life Herb for the Old man in the beginning. You can also skip this and just kill everything you see instead. The Wolf King will show himself after an amount of Werewolves beat.
Boss: Evil Wolf King William
Edit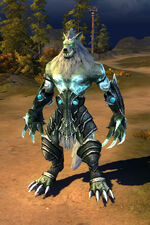 Skills:
Normal Mode
Soul Points x 1800
Gold: 4.000
Treasure Chests:
Legendary Mode
Soul Points x 7000
Gold: 30.000
Treasure Chests:
(The Wolf King's treasure can only be obtained when you get more then 5500 points in Legendary Mode)
Ad blocker interference detected!
Wikia is a free-to-use site that makes money from advertising. We have a modified experience for viewers using ad blockers

Wikia is not accessible if you've made further modifications. Remove the custom ad blocker rule(s) and the page will load as expected.