[Side] Gain the Initiative
Edit
Description
Edit
Let's put the unsolved issue of pirates aside, though it hasn't been solved. The current issue is more tough. Seigneur Frank asks you to find Swords Master-Cromwell and the war against these undead is about to start. We must find out who is behind all this.
Descripton
Edit
Swords Master-Cromwell
has sent
Senior Priest-Daniellai
to house in the graveyard of Honorhold East Suburbs. Go find him to see if he has got anything.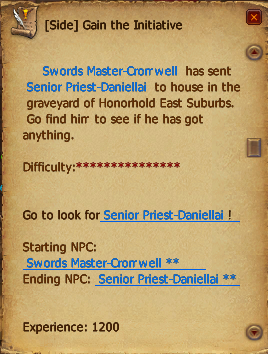 Ad blocker interference detected!
Wikia is a free-to-use site that makes money from advertising. We have a modified experience for viewers using ad blockers

Wikia is not accessible if you've made further modifications. Remove the custom ad blocker rule(s) and the page will load as expected.