[Side] Operational Readiness
Edit
Description
Edit
General Sax asks you to get familiar with the people in the barracks before getting into the war. He asks you to find and talk to Weapon Merchant-Farudie first. He is a weapon merchant.
Description
Edit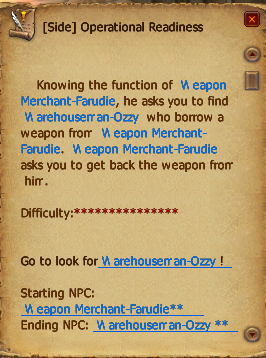 Knowing the function of
Weapon Merchant-Farudie
, he asks you to find
Warehouseman-Ozzy
who borrow a weapon from
Weapon Merchant-Farudie
.
Weapon Merchant-Farudie
asks you to get back the weapon from him.
Say it. If you are sent by that guy, it must be something urgent!
Experience: 80
Prestige: 10
Questline
Edit
Ad blocker interference detected!
Wikia is a free-to-use site that makes money from advertising. We have a modified experience for viewers using ad blockers

Wikia is not accessible if you've made further modifications. Remove the custom ad blocker rule(s) and the page will load as expected.