Ad blocker interference detected!
Wikia is a free-to-use site that makes money from advertising. We have a modified experience for viewers using ad blockers

Wikia is not accessible if you've made further modifications. Remove the custom ad blocker rule(s) and the page will load as expected.
Summon Dark MinionEdit
Skill of the Summoner Druid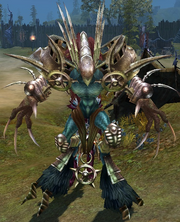 Tips: To control the target of the pet right-click on pet portrait and when you get a wand shaped cursor left click on target.
General Values
Edit
[Summoning Skill]
Summons a Dark Minion to assist the summoner in combat. The pet's maximum level can increase with improved skills, but player can only have one Dark Minion or Hell Ape. The pet will counterattack any target who attacks the summoner.
| Level | pet Lv* | Cooldown** | MP consumed | class req. | proficiency req. |
| --- | --- | --- | --- | --- | --- |
| Lv 1 | -2 | | 637 | 15 | - |
| Lv 2 | -2 | 282.0 | 628 | 15 | 30 |
| Lv 3 | -1 | 262.0 | 620 | 20 | 50 |
| Lv 4 | -1 | 242.0 | 615 | | 70 |
| Lv 5 | 0 | 222.0 | 610 | 30 | 90 |
| Novice | 1 | | | - | - |
| Advanced | 2 | | | - | - |
| Senior | 2 | 141.3 | 671 | - | - |
| Expert | | 121.3 | 697 | - | - |
*compared to you
**without a weapon equipped