[Side] Support Outpost
Edit
Description
Edit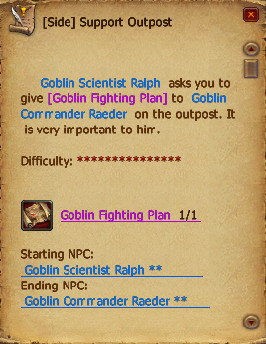 Goblin Scientist Ralph asks you to give Goblin Fighting Plan to Goblin Commander Raeder on the outpost. It is very important to him.
Thanks for bringing in such important intelligence!
Gold: 4500
Experience: 36000
Questline
Edit
Ad blocker interference detected!
Wikia is a free-to-use site that makes money from advertising. We have a modified experience for viewers using ad blockers

Wikia is not accessible if you've made further modifications. Remove the custom ad blocker rule(s) and the page will load as expected.